Vital Health Wellness Center :: Your Second Visit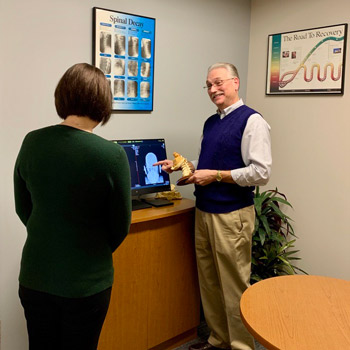 On your second visit, we ask that you sign in and the receptionist will escort you to the consultation room. Dr. Goffe will meet with you and give you a detailed report of your test results and answer any questions including:
How can you help me?
How often do I need to come in?
What will my care cost?
After reviewing your health history, goals, and examining your spine and X-rays, Dr. Goffe will discuss recommendations. Dr. Goffe will provide the best care plan for your health recovery and wellness goals. He will then ask a team member to speak with you to schedule your appointments and discuss the financial options best for you.
The team member will review the practice member guidelines that will make your time at Goffe Chiropractic as efficient and effective as possible. We ask that you bring your calendar with you so we can schedule your care plan and provide you with the times that will work best for you.
Your first chiropractic adjustment
You are now ready for your first adjustment. Our team will explain the process and show you how to prepare for your adjustment. Dr. Goffe will complete your visit with a thorough and highly effective adjustment that is tailored for your health needs.
You should plan for approximately 60 minutes to ensure efficient time for all areas of your health to be discussed and for the first adjustment. There is a charge for the doctor's time to review your test results and determine your care plan, and there is a charge for the first adjustment.
---
Regular Visits
On a typical office visit you will sign in at the front desk.
The receptionist will verify your next appointment and take payment at this time. You will also be informed of any upcoming events or workshops, and you will receive additional educational information that will be helpful for your care.
A typical visit will take approximately 15 minutes from the time you enter the office. Periodically, we will perform a progress evaluation. This information will assist Dr. Goffe in determining the progress and continued plan for your health. If additional therapies are needed, you will need to plan an additional 5-20 minutes on those days.
As chiropractors in Dayton our goal is that a practice member will not have to wait more than 10 minutes past their appointed time (and we run very close to our schedule). One of the "complaints" we hear in our office is that the practice member does not have to wait long enough to finish the article they are reading in our reception room magazines.

Second & Regular Visits at Vital Health Wellness Center | (937) 435-1895